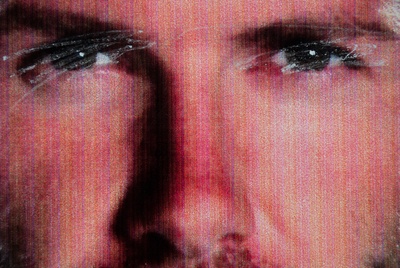 New Zealand, b.1949
Bruce Connew is a photographer.
He lives in Auckland, New Zealand, and sometimes in Paris.
Apart from an early skirmish with the West Surrey College of Art and Design, south of London, Bruce is an autodidact.
His central projects have shown as solo exhibitions in most public art galleries in New Zealand.
A number of these projects are published as variations on the photobook.
Two books — 'I Saw You' ( 2007) and 'I Must Behave' (2009) — reflect a protracted review of his practice, as does his yet to be published 2011 series, 'I Drive You Crazy, to the Moon'. His most recent book, 'Body of Work' (2015), acknowledges this ongoing review.
'My work does not come from orderly research. An idea emerges from an assortment of simmering propositions, components of things yet to be fashioned. With these elements in hand, I set off in pursuit of other evidence from which to construct meaning.'
His work is in public and private collections in New Zealand and elsewhere.
2013 · Censored, Examined, Exploited, Suite Gallery, Wellington
2012 · Stopover, Two Rooms Gallery, Auckland
2011 · I Drive You Crazy, to the Moon, Suite Gallery, Wellington
2011 · Karma Police and The Way We Live Now Suite Pop-Up Gallery, Wellington
2009 · I Must Behave, Govett-Brewster Art Gallery, New Plymouth
2009 · Censored triptych, Mary Newton Gallery, Wellington
2009 · I Must Behave Mary Newton Gallery, Wellington
2008 · Stopover, Tauranga Art Gallery, Tauranga
2008 · On the way to an ambush, War Photo Limited, Dubrovnik, Croatia
2007 · Stopover, Pataka Art Gallery, Porirua, Wellington
2007 · I Saw You, Mary Newton Gallery, Wellington
2004–2005 · Muttonbirds - part of a story, McNamara Gallery, Whanganui; Lopdell House Gallery, Auckland; Hirschfeld Gallery, City Gallery, Wellington
2002–2003 · Press Escape to Cancel, te tuhi, Auckland; Rotorua Museum, Rotorua; Sarjeant Gallery, Whanganui
1998 · On the way to an ambush, performance/projection, Foundings Theatre, Te Papa Tongarewa, Wellington
1995–1997 · Suburbs, Dowse Art Museum, Wellington; Sarjeant Gallery, Whanganui; Manawatu Art Gallery, Palmerston North; Rotorua Museum and Art Gallery, Rotorua
1988–1990 · Beyond the Pale, Dowse Art Museum, Wellington; Auckland Art Gallery, Auckland; various venues, Buller/Westland
1986 · Kanaky, New Zealand universities (touring)
1986–1987 · South Africa, National Art Gallery, Wellington; Hastings City Cultural Centre, Hastings; Fisher Gallery, Auckland; Robert McDougall Gallery, Christchurch; Govett-Brewster Gallery, New Plymouth; Sarjeant Gallery, Whanganui
1980 · Portfolio 1976-1980, PhotoForum Gallery, Wellington
2016 · 'Body of Work' book, Show, curated by Ed Hanfling, with others, Ramp Gallery, Wintec, Hamilton
2016 · Disenchanted Prophets Matakite Matekiri, Photography as Living Protest, curated by Nina Sejar, with Mark Adams, Bruce Connew, Gil Hanly, John Miller, Ans Westra, Te Kōngahu, Museum of Waitangi
2014 · History in the Taking: 40 Years of PhotoForum, curated by Nina Sejar and Geoffrey H. Short, Gus Fisher Gallery, Auckland, Dunedin Public Art Gallery, City Gallery Wellington
2014 · I Saw You (Re:Vision), Trish Clark Gallery, Auckland
2013 · Recent Auckland Photography, Northart, Auckland
2010 · I Must Behave selection, RCA Secret 2010, London
2008 · Censored triptych, Trust Waikato National Contemporary Art Awards, Hamilton
2008 · I Saw You selection RCA Secret 2008, London
2007 · Moving Still, Gus Fisher Gallery, Auckland
2006 · Birds – The Art of NZ Birdlife Pataka Gallery, Porirua, Wellington; Sarjeant Gallery, Whanganui
2006 · Return of the Hand, Sarjeant Gallery, Whanganui
2006–2007 · Wonder-land Fotografia Festival Internazionale di Roma, Rome; Pingyao International Photography Festival, China; Auckland Festival AK07
2005 · Stopover screened, Visa Pour l'Image photography festival, Perpignan, France
2005 · Symbols of Sovereignty, Pataka Gallery, Wellington
2005 · Pacific Light, Pataka Gallery, Porirua, Wellington
2005–2006 · Verbatim National Library Gallery, Wellington, New Zealand; Lopdell House Gallery, Auckland
2003 · The Caravan, Pataka Gallery, Porirua, Wellington
2003–2006 · My Place COCA, Christchurch; Fringe Festival, Adelaide
1998 · 747X10, Archill Gallery, Auckland
1990 · Art and Organised Labour, City Gallery, Wellington
1988 · From Pillar to Post, Real Pictures Gallery, Auckland
1976 · A Loss of Values, PhotoForum group show, Auckland Museum
2015 · Body of Work, Vapour Momenta Books
2009 · I Must Behave, Vapour Momenta Books
2009 · Censored, GRANTA 105, Spring 2009
2007 · I Saw You, Vapour Momenta Books
2007 · Stopover, Victoria University Press and University of Hawai'i Press
2004 · Muttonbirds—part of a story, Vapour Momenta Books
2000 · Press Escape to Cancel, SPORT 24, Fergus Barrowman
1999 · On the way to an ambush, Victoria University Press
1995 · Suburbs, self-published catalogue
1987 · South Africa, Hodder & Stoughton
2014 · PhotoForum at 40, Counterculture, Clusters, and Debate in New Zealand, Nina Sejar, Rim Books
2013 · Recent Auckland Photography, PhotoForum
2006 · Into the Light, a History of New Zealand Photography, Craig Potton Publishing
2005 · My Place, Glenn Busch and Bruce Connew, et al, University of Canterbury
1998 · A Century of Images, Te Papa Press
1993 · New Zealand Photography from the 1840s to the Present, PhotoForum
1981 · By Batons and Barbed Wire, Real Pictures
1981 · The Tour, Athol McCredie/Lothians
2012 · Auckland Festival of Photography, symposium speaker
2011 · I Drive You Crazy, to the Moon, Dr Barbara Garrie, NZ
2011 · I Must Behave, Marcel Tromp, Landfall 219, NZ
2009 · Visual Archives, Deidra Sullivan, PhotoForum, NZ
2009 · Saturday Morning, Kim Hill, Radio New Zealand
2009 · Censored, GRANTA 105, Lost and Found, Spring 2009, UK
2008 · Unguarded Moments, Michael Fitzgerald, EDIT 45, Germany
2007 · Cutting Out, Elizabeth Keenan, TIME magazine
2007 · Witness to a Migration, Finlay Macdonald, Sunday Star Times, NZ
2007 · The Gentle Observer, Kelly Andrew, Dominion Post, NZ
2005 · Of Flight and Death, Michael Fitzgerald, TIME magazine
2005 · Dug In, Dug Out, Gregory O'Brien, City Gallery Wellington, NZ
2003 · Finding the Bodies, Peter Ireland, PhotoForum 69, NZ
2003 · Street Wise, Virginia Were, Art News, NZ
1999 · On the way to an ambush, Justin Paton, Landfall 198, NZ
1998 · Saturday Morning, Kim Hill, Radio New Zealand
1988 · South Africa in Black and White, Riemke Ensing, Art New Zealand
1988 · Coalface Close Up, Bruce Connew, NZ Listener
1986 · Withering Contempt, John B Turner, Creative Camera, UK
1986 · Zealot Who Melds Film and Feeling, Linda Clark, New Zealand Times
1986 · View Through a Passionate Eye, Michael Kopp, Dominion, NZ
1986 · Seeing With the Camera, Ian Wedde, Evening Post, NZ
2008 · On the way to an ambush slideshow/narration, Bruce Connew, DVD
2007 · I Saw You, 8-minute short film on surveillance, Catherine Griffiths/Bruce Connew, DVD
2002 · Visible Evidence, eight photographers, Leon Narbey, produced by Trevor Haysom (shown Television New Zealand)
1987 · South Africa in Black and White, 12-minute documentary using Bruce Connew's South Africa images, Tom McWilliams/Terry O'Connor (shown New Zealand International Film Festival, Auckland and Wellington)
1986 · Kaleidoscope, 17-minute documentary on Bruce Connew's photography, Howard Taylor (shown Television New Zealand)
Museum of New Zealand, Te Papa Tongarewa,
National Gallery of Australia
Stedelijk Museum, Amsterdam
Christchurch Art Gallery, Te Puna o Waiwhetu, New Zealand
Dowse Art Museum, New Zealand
Sarjeant Gallery, Te Whare o Rehua, New Zealand
Ministry of Foreign Affairs and Trade, Manatu Aorere, New Zealand
Private collections