briefs
2014-08-13
A note of support, c1984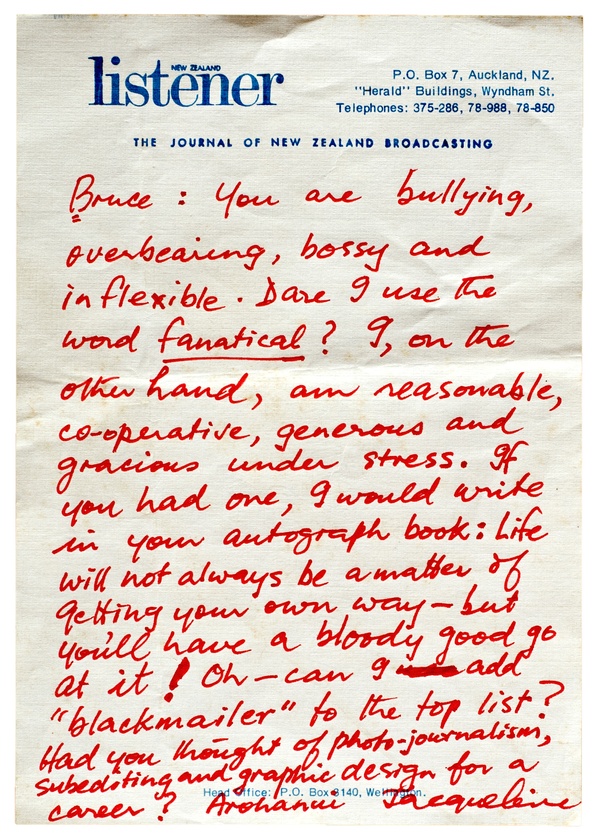 archive
... while sorting out personal papers recently, I came across this note of support from an impeccable sub-editor and loyal friend during my April 1982–July 1985 stint at the New Zealand Listener magazine.
---
I humbly confess to Jacquie's charges. I can't recall now just which project we were working on 30 years ago that encouraged this note, it could have been any of a number. I had made a decision, from day one at the magazine (April Fool's Day, 1982), to stand my ground as a photographer, to signal an entitlement to my own voice, to establish that voice within the magazine by meaningful sway over the edit and selection of my images, and the manner in which they would be used.
The trouble was, confrontation was my method of choice, and while that worked for a stretch, the dragooned and coerced in time found a way around me.
Jacquie, however, despite proof of the note otherwise, was a comrade-in-arms, a loyal friend, and when the moment was important, we worked carefully together to advance particular social and political agendas.
The magazine at the time was a rich vein of extraordinary minds, the best of the best of writers of journalism in New Zealand, where flippant declarations were set upon, and discussion was earnest, where John Pilger ('New Statesman'), Auberon Waugh ('The Spectator') and others were used amongst some as ranging commandoes in squirmishes between the Left and the Right.
BRUCE CONNEW / 08.2014