briefs
2014-07-22
The Seurat effect on 'Stopover' and 'I Saw You'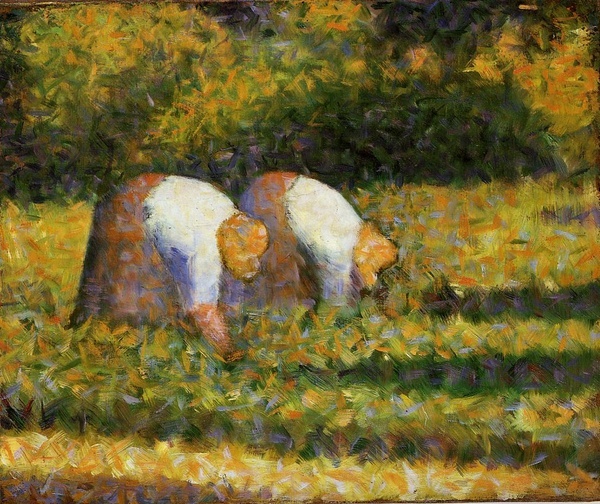 archive
... after I first saw Georges Seurat's 'Paysannes au travail' on a gallery wall, and over time reflected on its meanings, the painting, little by little, became and has remained my best-loved work of art.
---
I first saw Georges Seurat's small and exquisite painting 'Paysannes au travail' on a gallery wall, at the Dunedin Public Art Gallery, Dunedin, New Zealand in 1996, in an exhibition organised by the Solomon R. Guggenheim Museum, New York, and the Dunedin Public Art Gallery in association with the Singapore Art Museum and Dimension Endowment of Art, Taipei.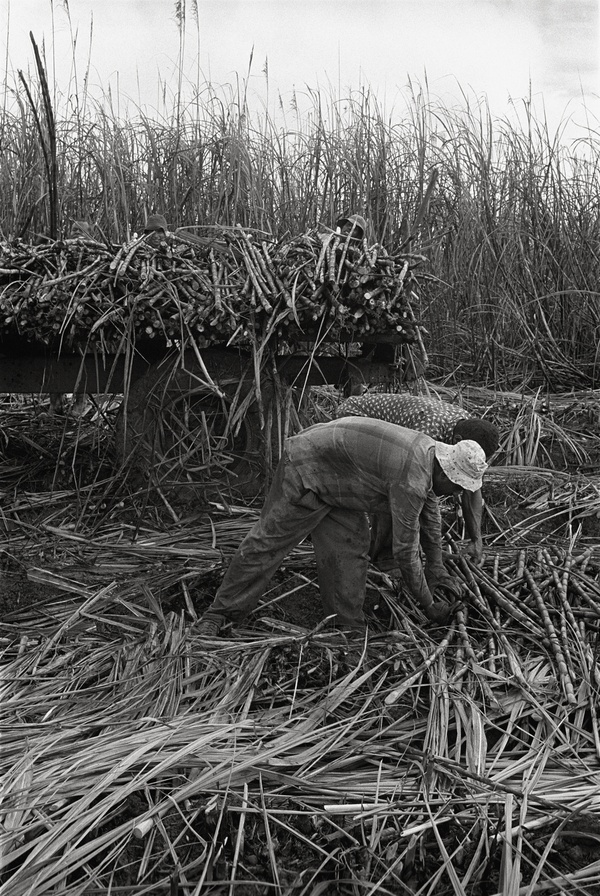 Utterly entranced by the painting's social and political documentary urging, I fumbled in the catalogue, 'Masterpieces from the Guggenheim Museum', for the painting and its blurb. I eagerly read past crosshatched brush strokes, daubs of complementary colour and chromoluminarism, for comment on the painting's social and political meanings and context, only to have my hopes dashed. As I recall now, there was nothing to be found, just more and more on the context and influences of Seurat's technique. I wondered about the writer's brief, all technique and not a meaningful thing on content.
Even so, something in that almost unassuming painting staked a claim on me, and we've hung out together ever since. On 5 July 2000, when I was photographing 'Stopover', my series on Indian-Fijian sugar cane cutters in Fiji, the descendents of indentured labourers who first came to Fiji around the time Seurat painted 'Paysannes au travail', I came across a small gang of men in a field of cut sugar cane, painstakingly loading the cane, in heat and humidity, onto the tray of an elderly lorry. As a pair of cutters in front me rythmically and repetitively bent and loaded, bent and loaded, I recognised in their stoop what Seurat had seen, and seen as significant, over a hundred years earlier in two women gleaners in a field of wheat.
On the day I photographed the two stooping men, I made a diary note about events of that day, without mentioning Seurat, but with a sense of the politics of his painting. Here is what I wrote which appears, with the image, in my book 'Stopover':
"Wednesday, 5 July 2000. Down the road from Vatiyaka near Kings Road, the main north road across Viti Levu, an Indian-Fijian leaseholder—not of the Kumar extended family—has hired a group of Fijians to harvest his crop. Most young Indian-Fijian men have no desire to cut sugar cane. They want to leave the country. This has produced a labour shortage where some leaseholders find it necessary to hire labour other than Indian. On Fiji television news at 10.00 tonight, it is reported that George Speight, the front man of the coup, has been given 48 hours to release the prime minister, Mahendra Chaudhry and the other hostages and then leave the parliament buildings, or lose an offered amnesty. Speight is currently serving a life sentence for treason."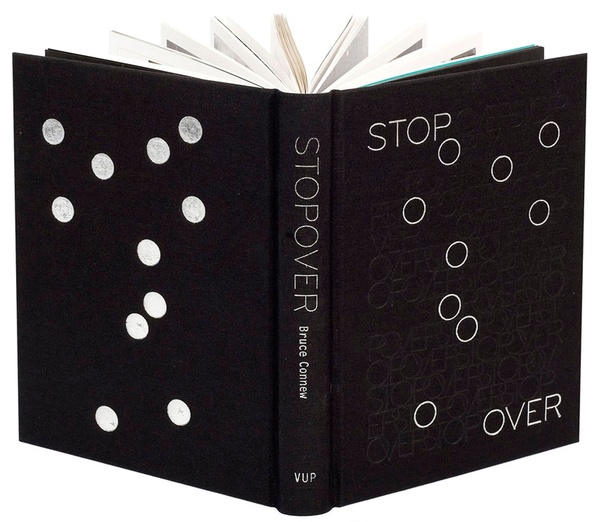 I went to the Guggenhiem's website while writing this brief, to locate 'Paysannes au travail', and see what their 2014 edition of the blurb says. Alas, the greater interest still remains with the painting's technical stature, with a barely perceptible nod towards Leftist politics.
After 'Stopover' was published and exhibited in 2007, along with this cane cutters image (in August 2014, the cane cutters image was collected, along with the complete suite of 'Stopover' images, by the National Gallery of Australia), I found myself aboard an old Dutch barge motoring past la Grande Jatte Island, on the Seine on the outskirts of Paris, the site of Seurat's 'Un Dimanche après-midi à l'Île de la Grande Jatte'.
The latter part of the field work for 'Stopover' crossed over with another quite different project I made over twelve months in New Zealand, 'I Saw You', which considered surveillance, but where no one could be identified. One image, of a bather, I was told—and I hadn't figured it out at the time of preparing the 'I Saw You' book and exhibition in 2007—had some reference to a detail of Seurat's 'Une Baignade, Asnières', sited opposite the la Grande Jatte Island. Of course, I am reluctant to push these connections, and certainly this one, tickled though I am. The cane cutters image, though, was a considered Seurat moment, even if Seurat's illustrious painting is a perfect work of art, and my photograph somewhat ordinary.
BRUCE CONNEW / 07.2014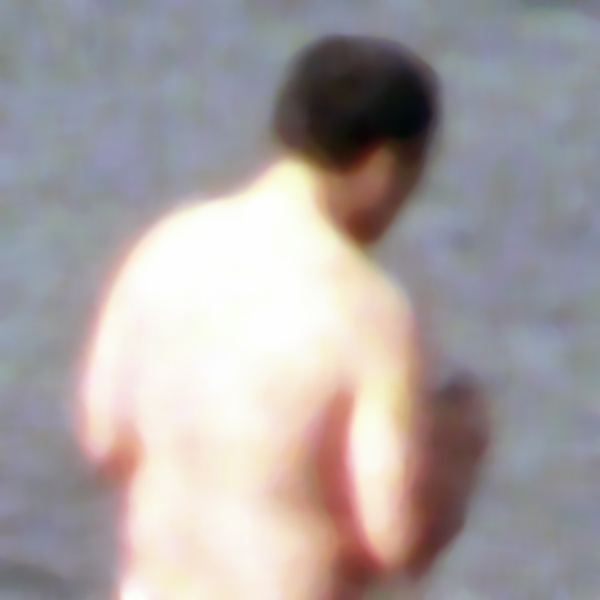 The following is the Guggenheim's September 2014 account of 'Paysannes au travail':
Georges Seurat's vibrant and harmonious images, comprising distinct daubs of complementary color, revolutionized painting. Born in Paris, Seurat entered the École des Beaux-Arts in 1878. He rapidly elaborated a personal idiom fed by 19th-century scientific theories of chromatics, optics, and physiological perception espoused by such thinkers as Michel-Eugène Chevreul, Ogden Rood, and Charles Henry, respectively. In 1881, he began a series of rural studies to which the Guggenheim's paintings appertain. He was largely inspired by the peasant imagery of Barbizon painter Jean-François Millet, and his crosshatched brushstrokes in these small works of agrarian life belie his incipient experiments with the division of color. A master draftsman, he created contemporaneous conté crayon drawings that capitalize on the textured surface of the paper to create zones of light and dark in eerily evocative images, as with the twilit Place de la Concorde, Winter. Seurat's investigations led to a more developed exploitation of contrasting color in 1884 with his transitional Bathers at Asnières. He eventually called his technique chromoluminarism, because the juxtaposition of individual hues elicited greater light effects, while contemporary critics christened it Pointillism or Neo-Impressionism.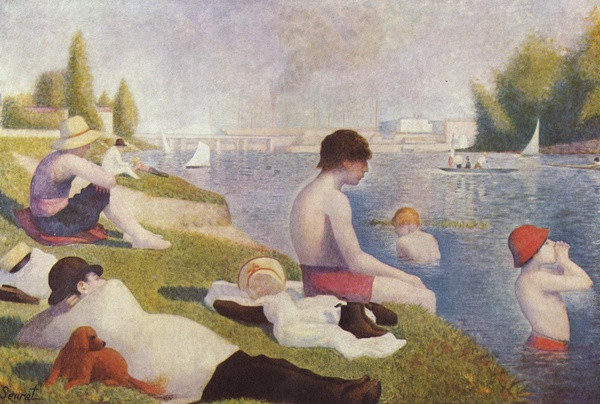 In 1886, at the eighth and last Impressionist exhibition, Seurat and a circle of like-minded painters jolted the art world with their radical works. The centerpiece was A Sunday on La Grande Jatte—1884 (1884–86), Seurat's epic painting of Parisians captured in a moment of leisure-time consumption along the banks of the Seine. The subjects Seurat portrayed in his other major images of metropolitan life—street musicians, circus performers, can-can dancers, and models—equally epitomize modernity. While rural and urban social themes are an attendant aspect of his work (although he never overtly voiced the leftist political ideals shared by most of the Neo-Impressionists), from the mid-1880s onward, Seurat also painted port scenes and seascapes along the northern coastline of France. These luminous works devoid of people, which combine mosaic-like surfaces with arabesque forms, are meant to induce emotive states in the viewer through particular deployments of color, chromatic intensity, and line, transcending the potentially formulaic confines of a method founded in scientific process. Such ideas were influential for his contemporaries, as well as the Symbolist painters of the 1890s. Yet, because Seurat was notoriously reticent and wrote little about his theories, when his life was cut short by diphtheria at age 31, these hermetic works became his singular legacy.