briefs
2018-09-07
'folded eggs'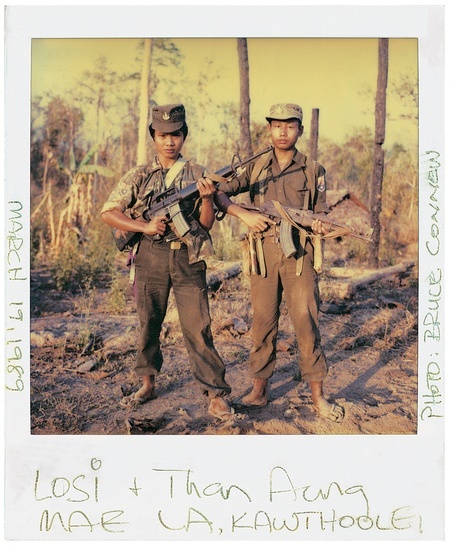 archive
'folded eggs' and NZ Customs.
---
Now, at the Port of Auckland, NZ Customs are to inspect 'folded eggs' ... perhaps the title suggests undeclared food, or maybe it's the essay reference to New Zealand's colonial wars ... the last artist book they checked was 'I Must Behave' ... I turned that inspection into an artwork.

In the meantime, a 1989 Polaroid of two young Karen National Liberation Army soldiers tasked with my protection at a trench position in Burma not too far from the Thai border. I took with me an SX70 Polaroid camera so I could gift images to those who helped. I ran out pretty quickly. The FM2 meant, ". . . the two teenagers moved quickly together, entwining their arms for a photograph they must have known they would never see." ... from 'On the way to an ambush' (1999).
Taking pre-orders until launch with @photoq_bookshop at Unseen Amsterdam, 18.00h, Friday, 21 September 2018 — bruceconnew.com/books/

Best deal until Amsterdam: x50 only special edition books with print NZ$55.00, free shipping worldwide