briefs
2021-03-17
First Taranaki War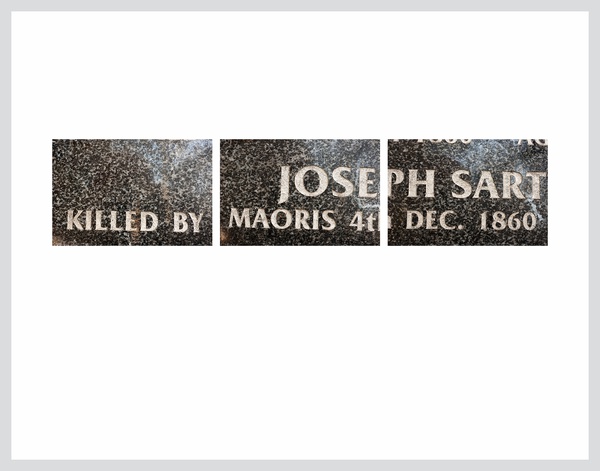 archive
.. beginning of the first Taranaki colonial land war at Waitara
---
17 March 2021 was the 161st anniversary of the beginning of the first Taranaki colonial land war at Waitara, when the colonial administration of Aotearoa New Zealand was found woefully wanting, not for the first or last time .. from 'A Vocabulary', my artist book with a mōteatea and kōrero by Rangihīroa Panoho, a vocabulary of colonisation.
The exhibition opened at Te Uru Waitākere Gallery, and is now at Toi Tauranga Tauranga Art Gallery until 23 January 2022.

Gravestone, John Edmund Sarten, Taranaki Mounted Volunteers, with 65th Regt, Naval Brigade HMS Niger, Royal Artillery and Taranaki Mounted Volunteers, under Col Emilius Gold, British and colonial forces, fatally wounded in battle against Wiremu Kīngi Rangitāke, te rangatira o Ngāti Kura, Ngāti Mutunga, Te Atiawa, under Hapurona Pukerimu, te rangatira o Te Atiawa, Te Kōhia pā (L pā), Waitara, 17 March 1860. Joseph Sarten (16), killed in an ambush, Hēnui, 4 December 1860, and father of both, Edmund Sarten, died 21 August 1860. Church of Saint Mary, Ngāmotu New Plymouth.
BRUCE CONNEW / 03.2021