reviews
2016-05-10
'Body of Work' review, photo-eye Book of the Week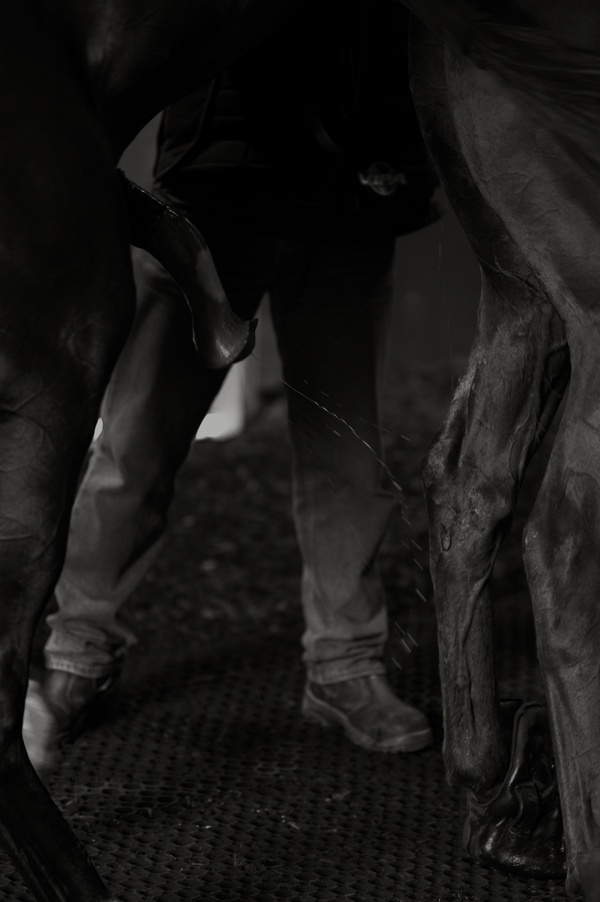 archive
Daniel Boetker-Smith reviews 'Body of Work', photo-eye Book of the Week.
---
This week's Book of the Week pick comes from Daniel Boetker-Smith who has selected 'Body of Work' by Bruce Connew from Vapour Momenta Books.
"Today Radiohead released their first new song in years. I'd set aside the afternoon especially to write this review of Bruce Connew's newest publication 'Body of Work', with no idea that the quintet from Oxford who have crafted the soundtrack of my adult life would inadvertently tell me how to read and understand Connew's book.
'Street Spirit (Fade Out).' I can remember the lurid lines: 'Cracked eggs dead birds / scream as they fight for life / I can feel death / can see its beady eyes.' These words have been etched into my psyche since I first heard them in 1995. Hearing these lines again today after a number of years it seems that nothing can more accurately describe Bruce Connew's new book. Connew has been around, making books, since the late 80s, and he is somewhat of a national treasure in New Zealand; a prolific, smart and eminently generous artist. But he's never made a work like this before, and I'm not sure he ever should or could again. This is his 'Heart of Darkness'.
But he's never made a work like this before, and I'm not sure he ever should or could again.
'Body of Work' is elemental; it is base and it conjures extreme responses of both a strong desire to look further and an unwillingness to continue to have your retina pounded by such savage and excruciating beauty. Put simply this book is a series of images depicting horses fucking. The production and printing of the book is extraordinary, in fact the printing is so good, the ink laid on so thick, that each page is practically sculptural, which makes it all the more confronting. These are offset printed pages made to touch, to feel, to rub, and to fetishize.
I recall reading something Thom Yorke (Radiohead's singer/songwriter) said years ago in an interview about 'Street Spirit (Fade Out)' being the one song he'd written that was hopeless, that had no resolve, that it was a dark tunnel without light at the end. Connew's photographs, made inside the breeding barn at a horse stud during breeding season in New Zealand, have this feeling too, and I can pinpoint exactly where this hopelessness is located; it's in the eyes.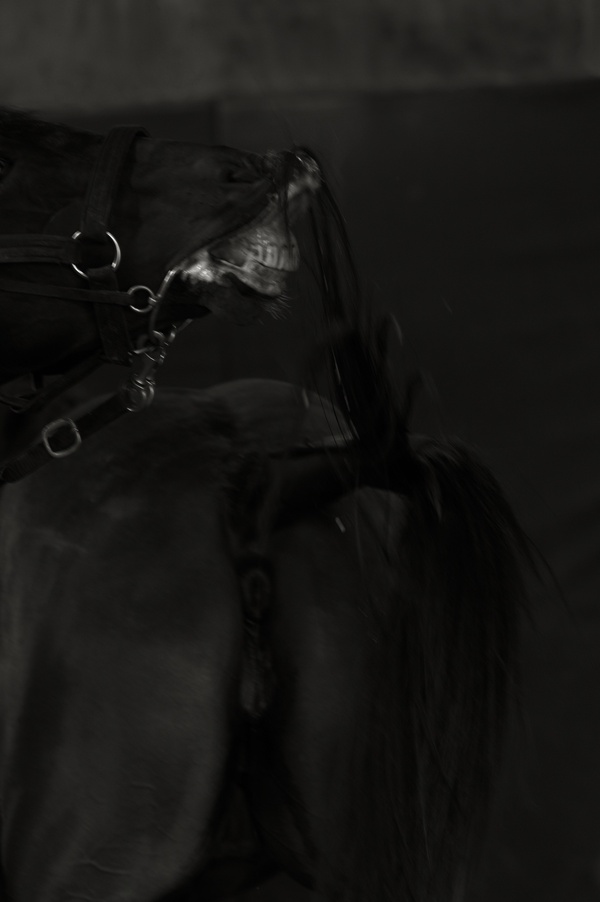 The book shows us the pragmatic and sordid details of horse breeding — erect penises, glistening vulvas, hooves mounted, back legs kicking out, fluids spraying, teeth bared, penetration, ejaculation, and veins throbbing; however, it's in the repeated close-up representation of the mare's 'mournful' eyes (as Connew calls them) where you'll find the pain. Coming back to Heart of Darkness, at one point Conrad writes, 'I should be loyal to the nightmare of my choice.' Connew has broken open a nightmarish world of his own, and it is depicted in the eyes of the horses he has photographed. The other images in the book set the scene, they give you the dark smells, and the guttural sounds, but the eyes relay the distraught and maniacal horror of what's happening. These anthropomorphic eyes tell the whole story, they plead for help, they scream terror, and we can only watch the barbarity unfold, 'I can feel death / can feel its beady eyes.'
This is a singularly brilliant, brave and raw book, made to be savored, and pored over, to be loved and loathed; not loathed because of any flaws, but because, as Thom Yorke said when talking about 'Street Spirit (Fade Out)', 'that song drains me, and it shakes me, and hurts like hell every time … and it breaks my heart.'"
DANIEL BOETKER-SMITH / 05.2016
Daniel Boetker-Smith is a writer, curator, educator and artist based in Melbourne, Australia. He is the Director of the Asia-Pacific Photobook Archive, a not-for-profit organization established in 2013 to promote and share the books of photographers from the Asia-Pacific region at festivals, galleries, and institutions all over the world. He regularly writes on photography for a number of online and print publications. He is also coordinator of the Asia-Pacific Photobook Prize and a Founder of Photobook Melbourne, the only international photobook festival in the Asia-Pacific region. Daniel is the Course Director at the Photography Studies College, Melbourne.