"A few yards away from the man at the organ, on the same hotel verandah, a tall white man is being stabbed." Vernon Wright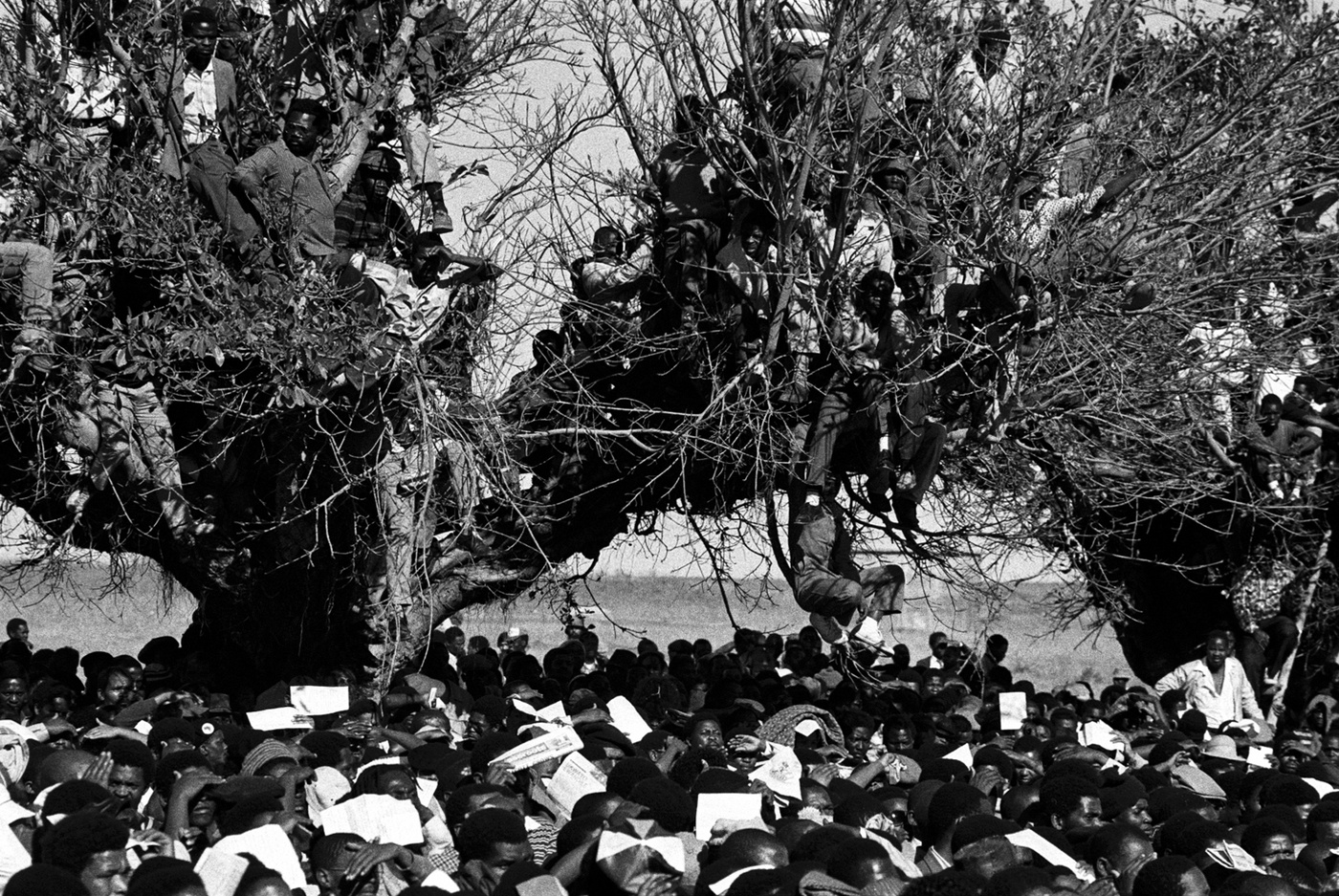 'South Africa' was published by Hodder & Stoughton, New Zealand, in 1987, when Bert Hingley and Tom Beran were about. I laid out a sequence of large photocopies of the images, as they would appear in the June 1986 National Art Gallery exhibition, along a carpeted corridor in Hodder's Auckland offices. Bert strode up and down the line, and said quickly that he would publish the book.

I had arrived in South Africa on the day the government declared a state of emergency, 21 July 1985, to be met by writer Vernon Wright, my compatriot on our five-week passage through apartheid. Vernon wrote an important essay for the book, and sought Winnie Mandela to write the introduction.
exhibition & prints
'South Africa' was first exhibited at the National Art Gallery (now Te Papa Tongarewa), Wellington, New Zealand, June-August 1986, when Luit Bieringa was director. The exhibition then toured to the Hastings City Cultural Centre, Hastings; Fisher Gallery, Auckland; Robert McDougall Gallery, Christchurch; Govett-Brewster Gallery, New Plymouth; Sarjeant Gallery, Whanganui, through 1986-1987.
film
In 1987, Terry O'Connor and Tom McWilliams produced 'South Africa in Black and White', a 12-minute documentary film using images from 'South Africa'. The film screened at the 1987 New Zealand International Film Festival, Auckland and Wellington.
view all 68 works with print/price particulars
Winnie Mandela's introduction to 'South Africa', 1987
TO THE COUNTRY I LOVE DEARLY!
SOUTH AFRICA!
I have as yet to find words to describe the constricted lump of pain in the throat caused by the brutal experience of exile in one's fatherland. Consequently those who take the risk of seeking you out, who probe into your circumstance and experience to a smaller or greater degree your humiliation, your degradation, stand out in your mind, in your memory as nothing else could ever do. One such person is the author Vernon Wright, whom I shall never forget. His profile as he stood in Piet de Waal's office (my Brandfort Boer circumstantial attorney who found himself caught up in the cross-fire) is as vivid as that day, one afternoon of 1979, when I was harassed almost out of my mind by the racist regime. I recall too how shocked Vernon Wright was over the attack on my house in 1985 by the South African security forces who bombed the homestead and reduced it to rubble, and in the process destroyed a lifetime's valuable possessions.
I am very touched by his reference to that incident in his book, which is a graphic illustration of the horrors of apartheid, its immortality, its inhumanity—the gross injustices of a sick society so aptly depicted; and Bruce Connew's lens cannot fabricate what the two men saw and captured. So often the Pretoria minority racist regime screams lies at whatever saletruth is exposed about South Africa's society. The blatant misinformation from Pretoria even managed to fool the New Zealand public, as observed through the attitude of the New Zealand Rugby Union which to the horror of the oppressed people in South Africa supported the racist whites-only South African Rugby Board. We, the oppressed majority, also know that New Zealand is an easy target for Pretoria's propaganda because it has it's own version of apartheid manifest in its racism. It has not surprised us that some New Zealanders including the New Zealand Rugby Union and other sportsmen become de facto self-appointed ambassadors for the white South Africa.
Here is a book that will challenge and encourage those who care. It will both shame and inspire racist South Africa and caring Christians throughout the world. Vernon Wright's intellectual honesty is a challenge to those who are false. He has the uncanny ability to put his finger on the root cause of South Africa's neurotic psychological race problem and at the same time he is able to outline white South Africa's dilemma. He is a realist, and he and Bruce Connew tell the truth that most haven't the courage to tell. His style is that of a realist not afraid to tell the truth even when the truth is painful. What more can one admire in a dedicated man?
Everyone needs to read this honest testimony of disguised Nazism—both black and white alike need to act on these most painful truths because there can never be a unilateral solution to South Africa's self-made complex problems, not even with the peaceful dedicated vision of Martin Luther King's historical dream.
What can one expect of any human being who doesn't accept the principles of the Book of Books—the Bible, and Jesus's teachings: Love they neighbour as you love yourself! The Afrikaner race doesn't know that commandment. They are a people devoid of Christian love and consumed in racial hate.
Vernon Wright's and Bruce Connew's book exposes the hypocrisy that the Afrikaner is moving towards some kind of reform, a concept which is at a variance with the beliefs of the democratic mass movement—that apartheid can be reformed. Apartheid, or race discrimination, or racial differentiation, cannot be reformed; nor are the oppressed majority prepared to accept the hypocritical political acrobatics of the ruling racist minority—the laager volk, the lunatic right of right of South Africa's sick, schizophrenic society. The preservation of this minority racist people is at the cost of thousands of black lives, innocent men and women, innocent babies shot on their mothers' backs by security forces in defence of apartheid.
New Zealanders are lucky to have this disciple of the truth, ready to travel to faraway lands for the truth. Maybe to them it's another novel, another story, or another grim racist gimmick of a white man bogged down with racial guilt and wanting to undergo a process of psychological racial cleansing to justify his guilt. Nothing could be further from the truth. Vernon Wright and Bruce Connew care, and their book tells the truth as it is, with all honesty, love and commitment to the truth which is foreign to white South Africa.
Read this book and enjoy it! Here's a rare opportunity to peep through the window of the blistering inferno of racial hatred—a society under siege, shut off from the rest of the world and South Africa itself, with one state of emergency after another! This way to apartheid shuts off the grim truth about racial killings of detainees, death in the streets, maiming of innocent civilians, brutal murder of government opponents, persecution of all sympathisers with the mass movement; and grilling of the white businessmen who dared talk to the African National Congress in exile: people like Chris Ball, Managing Director of Barclays Bank, a great patriot whose motivation was the preservation of the economy of our land, his concern for the country if the world succeeded in imposing mandatory sanctions against South Africa.
All oppressed South Africans of every shade salute your honesty, Vernon Wright and Bruce Connew. Men of fibre who know how priceless this truth is, wish you the best. May God help you carry this light, this cross throughout the world. We are listening. Read on!
NOMZAMO WINNIE MANDELA / 1987
view all 68 works with print/price particulars