'folded eggs' is an artist book, a modest meditation on history and memory, with 53 colour images made in Chile, from Valparaíso to Santiago, and a concise essay across Allende and Pinochet to New Zealand's colonial wars.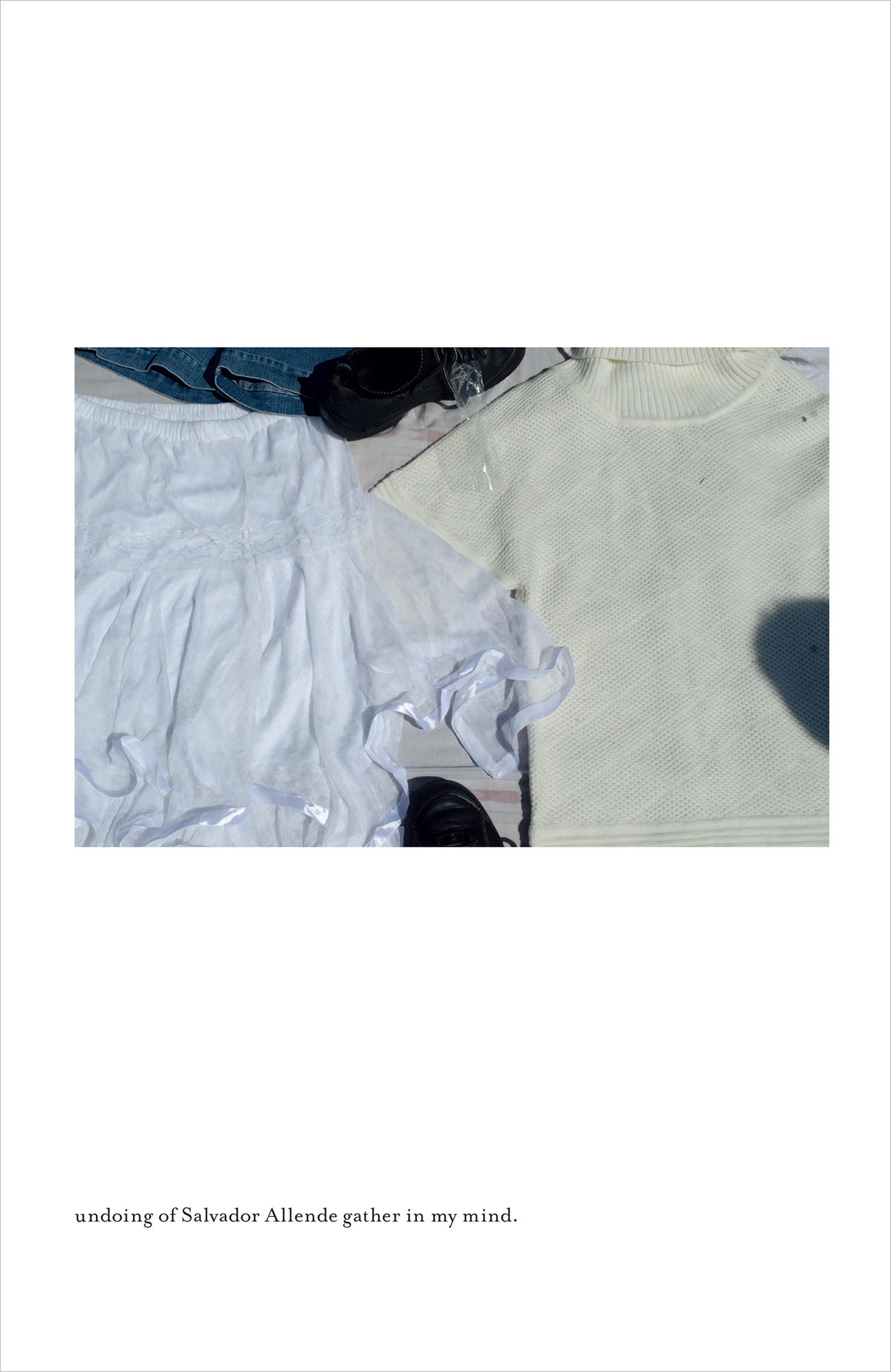 'folded eggs' emerged in the wake of a journey from my home in New Zealand to grandchildren in Santiago. It was an inadvertent project from images made without clear purpose in a country whose recent history I understood. My own country's history became implicated.
'folded eggs' is an artist book, a modest meditation on history and memory, with 53 colour images made in Chile, from Valparaíso to Santiago, and a concise essay across Allende and Pinochet to New Zealand's colonial wars.
The book is a simple, tactile, soft-back artist book, printed offset on beautiful German paper with a wrap-around, Risograph-printed, Kraft-paper cover. A concise essay runs as a single line, below the images and centred in the book, so the essay neither begins at the start nor finishes at the end — the visual and textual reading is at once "filmic and poetic".
The book printed late May 2018 for a September release with @photoq_bookshop at Unseen Amsterdam ... Vapour Momenta Books will continue to offer the regular edition at NZD$35, and the special edition with artist print at NZD$55, free shipping worldwide, until after the New Zealand launches, Auckland and Wellington, mid-December 2018.
The next signing, after the Hamburger Bahnhof Art Book Fair in October, will be during Paris Photo 2018 with the the lover of peotry and silence, the unique Andrea Copetti, Tipi Bookshop, Brussels, aboard Sebastian Hau's pumping Polycopies on the Seine, 1800-19.00h, Friday, 9 November.
Then two launches back in New Zealand after mid-December 2018 at Lela Jacob's The Keep, Auckland and at Angela Gordon's The Service Depot, Wellington. That's it ... perhaps!
ORDER YOUR EDITION ABOVE!
Design Catherine Griffiths
and Bruce Connew
Typography Catherine Griffiths
Soft-back, Kraft-paper jacket,
100 pages section sewn, exposed
binding, 200 x 130mm, upright
53 colour photographs
Printed in Hong Kong
EDITION of 600
SPECIAL EDITION of 50,
with signed,numbered, pigment print #11,
115 x 76mm image size, on
308gsm Hahnemuhle Photo Rag
Vapour Momenta Books
ISBN 978-0-473-43770-1
exhibition & prints
The first exhibition of 'folded eggs' will hang some time during 2019.
Meanwhile, prints are available through Suite Gallery, Wellington, New Zealand. Images, with print particulars, can be viewed at 'view all 53 works' below.
The prints are in an open edition, an elfin 150 x 100mm image size, each a signed and numbered pigment print on 308gsm Hahnemuhle PhotoRag.
view all 53 works with print/price particulars
... inevitably, its roots are political.
While this artist book is a modest meditation on history and memory, inevitably its roots are political.
Our second daughter migrated from New Zealand to Santiago with her two young children and Chilean partner almost a decade ago. They are a central reason to spend time in Chile across the Pacific, a sister link in the Ring of Fire. This family endured the long, magnitude 8.8 earthquake in February 2010. A few months later another daughter endured the magnitude 7.1 earthquake in Christchurch, New Zealand, and six months after, the devastating 6.3 killer earthquake. The children and grandchildren are now scattered to the four winds, not one left in New Zealand. Despite their disparate destinations, our obligation, as much to ourselves as the family, is to visit. We are tight.
I knew what was happening in Chile in the early 1970s, but it took the blunt instrument of a coup to focus my thoughts. It was 100 years after the New Zealand Wars, a decades long series of land-grabbing, colonialist battles between Māori and British troops, yet to be widely addressed in Aotearoa/New Zealand.
The strafing of the presidential palace in Santiago, September 11, 1973, briefly pushed aside the regular horror of the Vietnam War on New Zealand television, to furnish our first big, mainstream news out of Chile. I struggle to recall any reports of the lead up, but there must have been. The jets raking the palace, the seat of an elected government, was my first unblemished image.
Only much later did this Chile cataclysm, and the tragedy in its sweeping details, make fast in my mind the likes of Kissinger and Nixon, the CIA, and eventually Milton Friedman's preparation of Chilean students in Chicago for a free-market experiment. And still, as records and documents declassify, long-held assumptions are, as they were with South Africa, invariably and harrowingly confirmed.
When I strolled around a Valparaíso city corner to an outdoor flea market, a tar-sealed field of used clothes, in my eagerness to make images in the hot sun, these histories, not so long ago, often stifled, did not leapfrog to mind, nothing beyond the aesthetics of the prospect to behold. Nor did the proposition that clothes could have memory besides their histories, and objects too, and the earth beneath our feet where blood was likely spilt. This notion came later, as meaning reinforced meaning when peering at these images, intermingling them, shuffling, over and over, to coalesce my personal memory of these histories with the conviction that artifacts and earth and water retain a memory of unfortunate events.
Years earlier, I walked on many of the bloody battle sites of the New Zealand Wars, and back then I can recall, this hypothesis manifested as a sort of metaphysical moment, a quiver.
BRUCE CONNEW / 05.2018
view all 53 works with print/price particulars